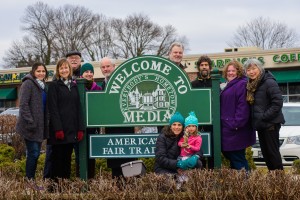 The Committee is a group of local and not-so-local residents, retirees, students, business owners, and more, who are dedicated to — or just learning about — Fair Trade.
The Committee meets every Thursday morning, from 9:30 to 10:30 AM. The last Thursday of every month, we switch to an evening meeting from 7 to 8 PM to catch those of you, who can't make mornings.
Our meetings are always open to the public, and we meet in various places in town. Please visit our Facebook page or the calendar on our home page for the location of this week's meeting! We end promptly at 10:30, so don't worry that we will take up your entire morning.
Some people come every week to our meetings, some monthly, and some annually. Some come for 10 minutes, some come late, and some come for the full hour. We love drop-in's and commitment-phobes. Whatever works for you, fits into our flow. Some members move on — or move away to Argentina. Some have spun off and made Philadelphia a Fair Trade Town! But most come back and check in at some point, and we are so, so happy to see them again!
We've been meeting every week, almost fifty weeks a year (well, maybe more like 48), for TEN years now. Come drop in sometime. We'd love to meet or re-meet you!