Newsletter
View this email in your browser
In this edition:
*Summer Solstice Celebration
*Media 5 Mile Race goes bananas
*MES presentation
*Fair Trade Your Office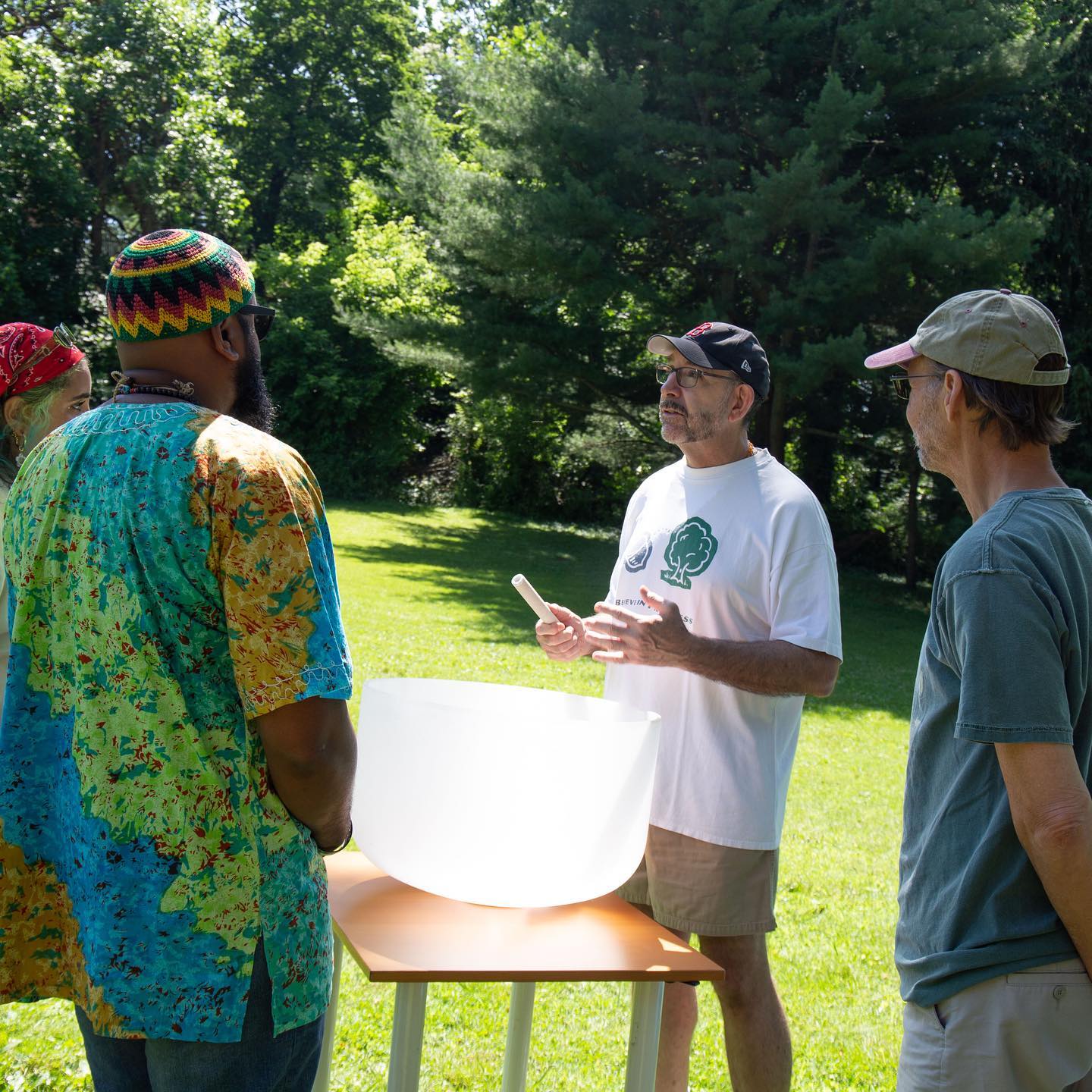 Fred Shamlian demonstrated his sound quartz bowl at TTM's Summer Solstice celebration. Media Fair Trade Welcomed-in the Summer Solstice

As we progress through the Dog Days of Summer, we're thinking back to the summer solstice and reflecting on our participation in Transition Town Media's Summer Solstice celebration that was held in Glen Providence Park in June. Our own Fred Shamlian was in attendance with his gorgeous sound quartz bowl, as was Ira Josephs who shared information about our Committee.
Thanks to TTM for hosting such a fun event and for having us participate!
Media 5 Mile Race was Bananas – in the best possible way!
We would like to once again send out a big thank you to all of our Fair Trade volunteers at this year's 5 Mile Race! It was so great to have the race able to return in person and we enjoyed seeing all of our friends, volunteers, and runners back out on the route.

We'd also like to extend a huge thank you to Martindale's Natural Market in Springfield for donating Fair Trade bananas to the race this year! It was very generous of them to procure and donate the bananas, and the runners enjoyed them as an after-race snack! Thank you Martindale's for all of your Fair Trade support over the years. The next time you're in Springfield, we suggest stopping by Martindale's for a wide selection of Fair Trade products! Cocoa Farming Presentation at Media Elementary
At the end of the school year, several members of the Fair Trade Committee visited students at Media Elementary School to help students understand the concept of Fair Trade and why it's so important. The presentation included a "role-play" where groups of students pretended to be cocoa farmers growing and harvesting their cacao beans. Their harvests were impacted by real-life scenarios such as broken tools, excessive rain, neighbors coming to help, and more. The purpose was to demonstrate how guaranteed pricing as well as Fair Trade premiums make the difference between having a very successful crop, just barely making it, or even having a failure of a season. The children were very engaged, and the Committee looks forward to returning next year! Fair Trade Your Office
For our Fair Trade Your Office campaign, we supplied Fred Shamlian's Beambrand Studio at 105 W 3rd St in Media with a basket of Fair Trade goodies and info, in hopes that he can spread the good word, learn about new Fair Trade products and continue to buy Fair Trade.

And big thanks to the folks at M&T Bank in Media who helped us secure a grant from the M&T Charitable Foundation to allow us to continue this project!

Do you know someone who has a busy office? Please let us know! Join Us – Virtually!
We will continue to meet virtually and we would love to have you join us and Fairis Afrog, our mascot (pictured below). If interested, don't be shy, we need you!  Click the button below to send us your contact details, and we'll send you our virtual meeting information.                                      
I'd like to join!
Select us when Shopping at Amazon Smile and Amazon donates to us!
Make a tax deductible donation
Thank you so much for your continued support!